Tue, 7 July 2015
Episode 080: The One Thing Every Leader Must Learn To Do
Every great leader must learn to do this one thing. In today's episode we're going to break down this habit and teach you how to implement into your leadership.
SHOW NOTES: http://www.mattmcwilliams.com/080
This episode marks big changes for the World Changer Show. Here are some of the changes:
New Co-host -- Mark Sieverkropp
Video-cast of the podcast (see below)
Mark will be doing much of the show prep for the podcast
In today's episode we talk about this exact topic...delegation.
Delegation is one thing that every great leader does. Delegation will give you more Freedom and Trust.
In this episode Matt shares 4 things that he has learned about delegating:
My team is smart
My team is not perfect
My team likes to do different things than me
Trusting just feels better
Action item: Pick one task that you are currently doing that you can delegate to a member of your team.
Episode Links and Resources
POST: Overworked and Proud Of It: Workload as a Status Symbol
RESOURCE: One-on-One Meetings for Leaders (posts and free download!)
PODCAST EPISODE: The Lie of Influence (referenced in a podcast review read in the episode)
Ask Me a Question
If you have a question, comment, thought or idea, you can leave a voicemail for me or contact me via email.
Subscribe to the Podcast
Share the Love
If you enjoyed the show, please rate it on iTunes and write a brief review. That would help tremendously in getting the word out and raising the visibility of the show so that we can inspire other World Changers just like you.
Next Episode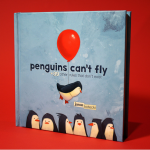 In Episode 081 Matt interviews author Jason Kotecki about his book "Penguins Can't Fly" and 39 Other Rules That Don't Exist. They talk about escaping "adult-itis"...you don't want to miss this episode!
Question: How would you rate your ability to delegate? How would your team rate it?
---